Take the Train to the "Northern Capital" : Manchester
in
posted January 16, 2023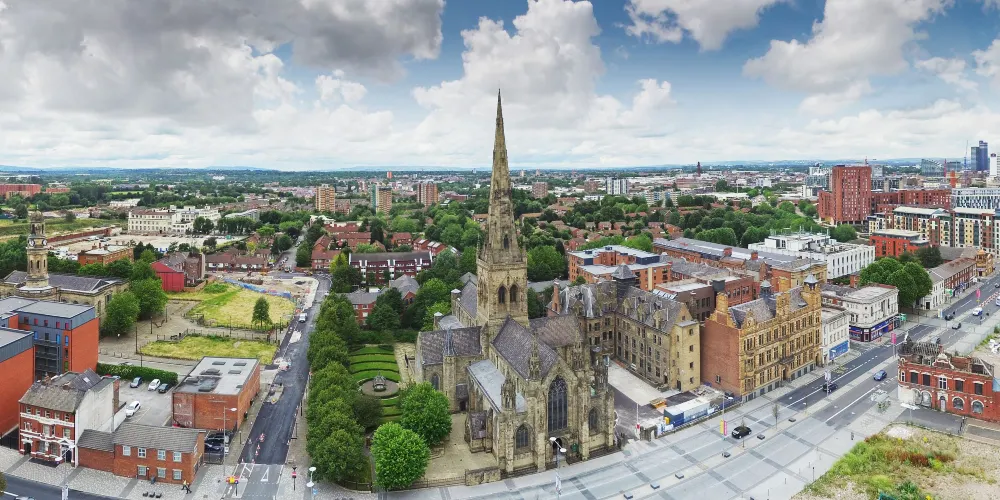 Take the Train to the "Northern Capital" : Manchester
What are the tourist attractions in Manchester, UK? When it comes to Manchester, some people think of football, and some people think of Manchester University. How many people know that Manchester is the birthplace of industry? But now Manchester has no industrial atmosphere. It is a city of tourism and leisure. There are always unexpected surprises in the beautiful Manchester. The food in Manchester is also good, and there are many tourist attractions in Manchester. So how to take the train from London to Manchester?
Ⅰ. The attractions of Manchester
1. Manchester Cathedral
Manchester Church is a medieval vertical Gothic style building located in the center of Manchester and is the main church of the Anglican Diocese of Manchester. The Manchester Church was built in the early 15th century. Although it was renovated and expanded in the Victorian era, the Victorian Church was severely damaged by air raids during World War II. It took the Manchester City Government 20 years to restore the church.
2. Manchester Town Hall
Completed in 1887, Manchester City Hall is the location of the diplomatic center. It is small in size and is located in Albert Square in the city center, facing the monument commemorating Queen Victoria's husband and other great men.
3. Manchester China Town
Chinatown is surrounded by four streets: Charlotte Street, Portland Street, Oxford Street and Mosley Street. This is the largest Chinatown in the UK. There are many cultures of Chins, famous food and snacks, etc. can be found here.
4. Manchester Art Museum
The Manchester Art Museum is located on Mosley Street in Manchester. It opened in 1824. It is one of the most famous private art museums in Manchester and one of the most popular art museums. It has become a paradise for Manchester art.
The museum's collections are diverse and divided into three major parts, namely, works of art, decorative arts and costumes. Among them, there are more than 13,000 works of art, the most famous of which are the paintings of the world-famous Pre-Raphaelites. The decorative art works in the museum include pottery, glass products, furniture, iron products, wallpaper, etc. The most outstanding ones are early British glazed pottery and 17th century silverware. The clothing collection in the museum can reach more than 21,000 pieces, covering various clothing and decorations in history from 1600 to the present.
5. Museum of Science and Industry
Right in the heart of Manchester's Castle District, it used to be the world's first railway station. With superior conditions such as canals, warehouses, and railway stations, it has historically been the center of British industrial and commercial activities. Now you can experience Manchester's industrial development history here.
Ⅱ. How to travel from London to Manchester by train?
Of the 6 trains that travel from London to Manchester every day 2 travel direct so it's quite easy to avoid journeys where you'll have to change along the way.
These direct trains cover an average of 262 kilometers every 2 hours and 56 minutes, but if you time it well, some of them can get you to your destination in as little as 2 hours and 7 minutes.
The slowest train takes 3 hours and 30 minutes and usually requires one or two transfers along the way, but if you are on a budget, this may save you money.